A documentary by Chris Metzler & Jeff Springer
Fabulously offbeat and refreshingly upbeat, this lovable film gets friendly with the natives of the Salton Sea, an inland ocean of massive fish kills, rotting resorts, and 120 degree nights located just minutes from urban Southern California. This award-winning film
from directors Chris Metzler and Jeff Springer details the rise and fall of the Salton Sea, from its heyday as the "California Riviera" where boaters and Beach Boys mingled in paradise to its present state as a decaying, forgotten ecological disaster. From wonderland to wasteland, Plagues & Pleasures on the Salton Sea captures a place far more interesting than the shopping malls and parking lots of suburban America, a wacky world where a beer-swilling Hungarian Revolutionary, a geriatric nudist, and a religious zealot building a monument to God all find solace and community.
Crisply and hilariously narrated by oddball auteur John Waters, and featuring music by desert lounge rockers Friends of Dean Martinez, Plagues & Pleasures on the Salton Sea melds high camp with stark realism, offering both a sobering message about the consequences of tampering with nature and a heart-warming tale of individualism.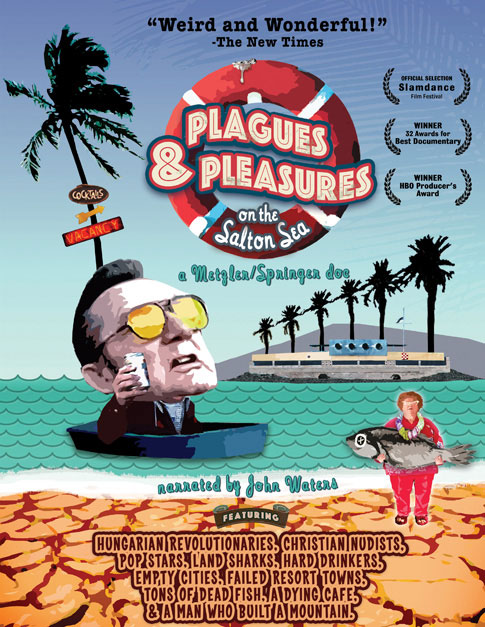 RELATED PLACES Imperial Valley